See also:
– Greece Considers Exit from Euro Zone: Athens Mulls Plans for New Currency (Spiegel)

Tourism will not be the answer during the 'Greatest Depression'.
---
With debts of €340bn, Greece is turning to its cultural heritage to attract a better class of visitor and make tourism the engine of the Greek economy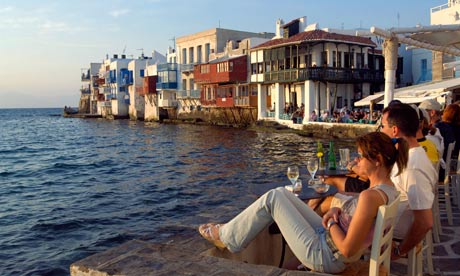 Tourists relax on Mykonos. Photograph: Rene Mattes/ Rene Mattes/Hemis/Corbis
You come to Delos by way of its ancient harbour. This, one suspects, is just as Apollo would have wished. For it is here, under the shade of a palm, that they say the god of light was born. Far removed from the merry-go-round that is Athens – or the fears over Greece's economic plight that have reached fever pitch – the uninhabited isle is afforded a reverence that few others know.
But for those braving the wind-swept seas on a Delos-bound ferry from Mykonos last week, there was no escaping the realisation that that crisis has also reached these hallowed parts. With litter bobbing on a film of filth off its beaches, its museum shop flooded and closed, and treasures – including the island's famous lions – consigned to a building blighted by cracks, cobwebs and rusty scaffolding, the signs were hard to ignore. Lack of staff meant most of the gems had been roped off.