Financial institutions based in the Cayman Islands have halved their deposits in UK banks over the past 12 months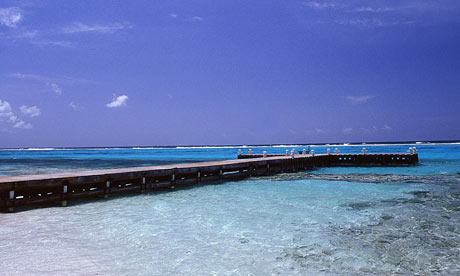 Banks in Cayman islands pull their deposits from UK banks. Photograph: PR
Hedge funds and financial institutions based in the Cayman Islands have been pulling their money out of Britain as they are hit by the credit crunch, according to figures from the Bank of England.
The low-tax regime and limited ­regulation of the Cayman Islands – with a population of 52,000 – has attracted 80% of the world's $1.3tn (£790bn) hedge fund industry.
Those institutions have almost halved their deposits in UK banks over the past 12 months, from $356bn at the end of the first quarter in 2008, to $173bn at the end of March, Bank of England data shows. The drop in Cayman Islands' deposits comes as hedge funds are being forced to return money to investors who have made big losses from the financial crisis. It also reflects fund losses from falling markets.
The outflow of funds from Britain puts the spotlight on hedge fund threats to abandon the UK because of higher taxes, tighter regulation and potential caps on executive pay and bonuses.
"Limiting bonuses through regulation will only move people around the world in search of a place to earn more freely," said Simon Davies, a managing director at ­private equity and advisory firm ­Blackstone in London.
Loans from UK banks to Cayman institutions also fell, but at a lower pace. Outstanding loans from UK banks to Cayman institutions outweighed Cayman deposits in UK banks by $124bn in the first quarter, a sharp increase from $12bn in the last quarter of last year, the data shows.
The Caribbean islands have attracted most of the world's hedge funds, although the institutions sometimes only have an appointed lawyer or advisory firm in the country, or barely a name plaque in a building. Hedge funds mostly operate from New York and London which housed about 500 hedge funds at the peak of the market.
Some hedge funds are closing down because of continuous withdrawals from investors, who want to cut their losses or keep their savings safe. Investors withdrew $256bn from the industry over the last two quarters, according to Hedge Fund Research. The number of funds and fund administrators registered in the ­Cayman Islands fell to 9,705 in the first quarter from 10,291 in the third quarter last year, according to the Cayman Islands Monetary Authority's Web site.
Law and accountancy firms in the Caribbean country have been busy restructuring funds, said Ingrid Pierce, a partner at Walkers law firm in the Cayman Islands. "We've seen some fund terminations and we have been busy with restructurings as firms need to return capital, or funds that are exposed to failed banks, such as ­Lehman," Pierce said. "Although things are now getting back to normal."
To stop hedge funds and private equity firms from moving out of London, the government has challenged a European Union proposal that plans heavier regulation on those industries.
Elena Moya
Monday 15 June 2009
Source: The Guardian