And here are the criminals that gave the nuclear technology to North Korea:
– Nuclear War Between Koreas: Brought To You By The US Government
---
Leaked UN report says Pyongyang is using front companies to export nuclear and missile technology to Iran, Syria and Burma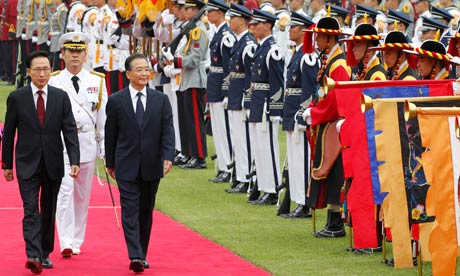 South Korean president Lee Myung-bak (left) and Chinese premier Wen Jiabao. The revelations came just hours before Wen arrived in South Korea for a three-day visit. (Reuters)
International efforts to avert a full-blown crisis on the Korean peninsula were given greater urgency today after a leaked UN report claimed that North Korea is defying UN sanctions and using front companies to export nuclear and missile technology to Iran, Syria and Burma.
The report, by a panel that monitors sanctions imposed after Pyongyang conducted nuclear weapons tests in 2006 and 2009, said the regime was using shell companies and overseas criminal networks to export the technology.
The revelations came just hours before the Chinese premier, Wen Jiabao, arrived in South Korea for a three-day visit certain to be dominated by mounting tensions between Seoul and Pyongyang.
At a meeting today, Wen told the South Korean president Lee Myung-bak that China would not "harbour" anyone over the sinking of a South Korean warship in March, in which 46 soldiers died.
See also: Beijing suspects false flag attack on South Korean corvette
But he added that China has not yet concluded that North Korea was responsible. Pyongyang has denied involvement.
According to a South Korean official, Wen said: "China objects to and condemns any act that destroys the peace and stability of the Korean peninsula."
China, the North's closest ally and main benefactor, has so far refused to condemn the Pyongyang regime after a multinational investigation concluded that a North Korean torpedo sank the Cheonan.
Analysts say Beijing is unlikely to support any UN security council moves against North Korea, but might be persuaded to abstain on a resolution rather than wield its veto.
Wen and Lee will continue talks tomorrow, at a three-way summit that will also include the Japanese prime minister, Yukio Hatoyama. A spokesman for Lee said South Korea was "fully concentrating on diplomatic efforts to hold North Korea responsible".
However, experts said China's options were limited, given its desire to defuse tensions and avoid sparking a political and humanitarian crisis in its own backyard.
"China has its own strategic stake in the Korean peninsula, and if North Korea is further isolated or sanctioned, that would escalate tensions and risk serious instability," said Prof Wei Zhijiang of Zhongshan University in southern China.
The sanctions report, leaked to journalists in New York, said UN bans on nuclear and ballistic missile technology, and on all arms exports and most imports, were having an effect. But it conceded the North had found ways to circumvent sanctions using companies and individuals who are not subject to asset freezes and travel bans.
The 47-page report contains a long list of sanctions violations reported by UN member states, including four cases of arms exports.
Pyongyang, the panel said, had used "a number of masking techniques," including falsely labelling the contents of shipping containers and giving inaccurate information about their origin and destination.
North Korea was using "multiple layers of intermediaries, shell companies and financial institutions" to get around sanctions, it added.
An unnamed western diplomat based at the UN said: "The details in the report are not entirely surprising. Basically it suggests that North Korea has exported nuclear and missile technology with the aid of front companies, middlemen and other ruses."
The report said the regime had tried to conceal arms exports by sending items in kit form to be built at their destination, and called on recipient countries of North Korean cargo to act with "extra vigilance".
Pyongyang is also suspected of using overseas criminal groups to transport and distribute "illicit and smuggled cargoes", possibly including parts for weapons of mass destruction.
In response to the sinking, South Korea froze trade with the North, resumed propaganda broadcasts across the border and announced joint naval exercises with the US.
The North retaliated by severing ties with its neighbour, expelling South Korean officials from a joint industrial venture and banning the country's aircraft from its airspace. It also ditched an agreement designed to prevent naval clashes and threatened to attack any South Korean vessel entering its waters.
Justin McCurry and agencies in Seoul
Friday 28 May 2010 11.09 BST
Source: The Guardian