Commander of Camacari force was discussing fight against traffickers when he was assassinated on way to work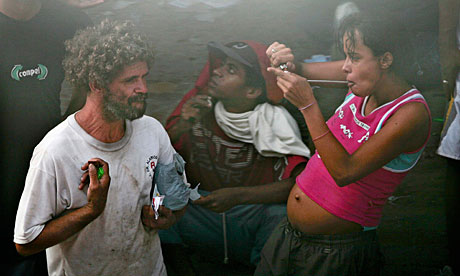 Brazil has a burgeoning drug problem, as police fight gangs who control supply to the addicts in the slums. (Reuters)
For police chief Clayton Leão Chaves it was supposed to be another day at the office. At around 9.40am this morning, he was making his daily journey to the police HQ in Camacari, a small city in Bahia state, and giving an interview to local radio on his mobile phone about the police's struggle against local drug traffickers.
Then something went badly wrong.
"I heard some bangs," one of the shows two presenters announced, perplexed, as the police chief's voice disappeared.
"Something serious has happened to our chief. It can't be anything else," said his co-presenter, adding: "The chief was just talking to us. We don't know what has happened. There is a lady weeping."
According to local media reports, Chaves had been killed as he spoke to journalists from Bahia's Lider FM radio station and to thousands of local listeners about attempts to improve security.
In a recording of the programme, released today, the voice of the police chief's wife can be heard breaking into a hysterical cry. "Oh my God in heaven, Oh my God in heaven. For the love of God."
According to reports, the police chief's car was ambushed by gunmen, who then fled in a white VW car.
"He was talking," his wife can be heard screaming on the recording. "He was giving an interview on the radio."
Producers at Lider FM allowed the audio from the police chief's mobile phone to roll for several minutes following the ambush, until a bystander appears to comfort the woman and the line finally goes dead.
"Stay calm," a man's voice can be heard saying.
Stunned, the show's presenters urged police to rush to the scene. "Attention military police, attention colleagues of the police chief. Get to the Cascalheira Highway urgently. Something serious has just happened."
Local radio presenter Marco Antonio Ribeiro told the G1 news site: "I was finishing the interview when the crime happened. We were meant to do the interview in the studio but he couldn't make it. The interview was about his work combating drug trafficking in the region."
Camacari is home to around 230,000 Brazilians and like many parts of the country has been suffering increasing violence and drug use, particularly crack cocaine.
Since 2007, nearby Salvador, which boasts one of the world's most famous carnivals, homicide rates have been well above those in Sao Paulo and even Rio de Janeiro.
In a statement the radio station said: "Lider FM talks every day about what is happening in the city. Unfortunately we have now reached the point where the city's police chief himself has been assassinated."
Tom Phillips in Rio de Janeiro
Wednesday 26 May 2010 20.29 BST
Source: The Guardian