Baxter again!!!
– Big Pharma: Baxter, CSL Sued Over Accusations of Blood Monopoly
– Baxter Filed Swine Flu Vaccine Patent a Year Ahead of Outbreak
– Baxter sent out 72 kilos of live bird flu material destined for vaccines confirmed by Austrian Health Minister Alois Stöger
– Baxter: Product contaminated with live H5N1 avian flu virus
---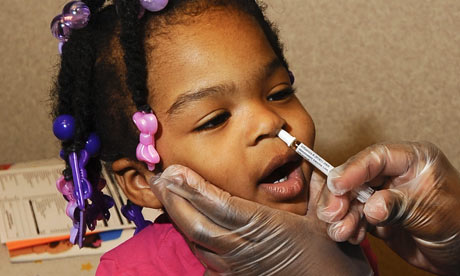 Two year-old Trinity Gilmore, gets one of the first doses of the H1N1 vaccine at Rush University Medical Center in Chicago, Illinois, USA, 06 Oct 2009. Photograph: Tannen Maury/EPA
A company producing swine flu vaccine for Britain has paid millions of pounds in out-of-court settlements after being accused of fraudulently overcharging for medicines.
Baxter, the US pharmaceutical giant, reached at least seven huge settlements over the past 12 months, some of them for millions of dollars. The company had been accused of fraud amid allegations that it had overpriced medicines by as much as 1,300%.
The disclosure comes days after Baxter's vaccine, Celvapan H1N1, was given approval by the European Medicines Agency and will raise fears about the growing costs of the swine flu pandemic. Vaccines are expected to cost the government £155m over the next four years.
Baxter became involved in prolonged litigation after being accused of fraudulently overcharging Medicaid, the US health programme that provides a safety net for the poorest families. Executives from the company paid out $2m to the Kentucky state government this year. Jack Conway, the Kentucky attorney general, said: "All of this could have been easily avoided if Baxter… had done what the law requires: report truthful prices.
"Taxpayers are footing the bill for these inflated drug prices, and my office is seeking to recover the money the Medicaid programme lost as a result of this deception and overpayment."
Medicaid relies on published average wholesale prices (AWPs) to calculate the cost of medicines which pharmaceutical companies then provide at a reduced rate. But several US states have accused a series of pharmaceutical companies of grossly overinflating the AWPs. Seven other states have reached settlements with Baxter: Texas, Alabama, California, Hawaii, Alaska, Illinois and Wisconsin.
In May, Baxter was one of six pharmaceutical manufacturers that agreed to pay $89m to the state of Alabama. In February this year Baxter paid out $1.1m to Wisconsin. Three years ago the company agreed to pay out $8.5m to Texas.
Baxter was one of five companies that paid California state authorities $22.5m following accusations of Medicaid fraud, and the company also paid out $400,000 to Hawaii. In Alaska, Baxter agreed to pay compensation to settle a court claim. The company is also facing court action in Mississippi. Illinois has recovered $6.8m from Baxter, according to reports.
Despite the scandal, Baxter was one of two companies awarded the contract to produce 132 million doses of vaccine for Britain. The other company, GlaxoSmithKline, received a "positive opinion" for its drug, Pandemrix, last month. Britain is reported to have ordered enough swine flu vaccine to give each person two doses. The growing cost of the vaccines has prompted concerns from politicians, but the Department of Health and the drug companies have declined to say exactly how much each vaccine costs.
Norman Lamb, the Liberal Democrat health spokesman, wrote to the National Audit Office in July asking whether the contract with GSK represented value for money. The National Audit Office has replied and is broadly happy with the deal, according to reports.
Sir Liam Donaldson, the government's chief medical officer, said that while swine flu could still cause potentially fatal complications Britain may have had a "lucky break" with a second wave of illness being lower than expected.
A spokeswoman for Baxter said that similar settlements with US states have been paid out by many other US drug companies and arose because of the unusual purchasing system employed by the Medicare system. "Baxter was in no way trying to defraud the system and has acted in a responsible, lawful and transparent manner. We will continue to work closely with the British authorities," she said.
Sunday 11 October 2009
Rajeev Syal and Sakshi Ojha
Source: The Observer
Information on swine flu and vaccination:

– Dr. Leonard Horowitz: The CDC's Vaccination Genocide
– Autism Explodes As Childhood Vaccines Increase
– 'Just get your damn vaccine' America! (The Swine Flu Conspiracy)
– Canada will protect swine flu vaccine maker GlaxoSmithKline from lawsuits
– CDC drafts 'ISOLATION ORDER' for swine flu (H1N1)
– Poll: Nearly 2/3 of US parents won't vaccinate their children against the H1N1 swine flu
– Australia: Nationwide swine flu vaccination
– US: Military to get mandatory swine flu shots soon
– Washington State lifts limit on mercury preservative in swine-flu vaccine
– Forced Swine Flu Vaccination Refused By Nurses In New York
– Long Island nurses to rally against mandatory swine flu vaccines
– Seasonal flu shot may increase H1N1 risk
– First wave of vaccine will be mostly nasal spray, a LIVE FLU VIRUS
– Nanoparticles used in untested swine flu vaccines
– China: Mass Swine Flu Vaccination
– US: Governor Baldacci proclaims civil emergency due to H1N1
– EMERGENCY UPDATE: French government document details forced mass vaccination plans from September 28th: GPs and hospitals to be excluded.
– Study: Causal Connection Between Thimerosal and Autism Established
– Historical facts exposing the dangers and ineffectiveness of vaccines
– Exposed: 'The Swine Flu Hoax' by Andrew Bosworth, Ph.D.
– Up to 60% of doctors may refuse swine flu vaccine
– Massachusetts 'swine flu' legislation: A $1000 fine per day or up to 30 days in prison for each day that you do not follow the emergency declaration rules
– Yes, you will! FORCED vaccinations, isolation & quarantine, health care interrogations and mandatory 'decontaminations'
– German health expert's swine flu warning; Does virus vaccine increase the risk of cancer?
– Dr. Russell Blaylock: Harmful Effects of Swine Flu Vaccine
– Swine Flu: The DynCorp 'COINCIDENCE'
– H1N1 Swine Flu Pandemic: October Surprise Prevention
– Dr. Russell Blaylock: How to reduce the toxic effects if force vaccinated
– Poll: Only a third of nurses willing to have swine flu vaccine
– Leaked Government letter to neurologists reveals concern about swine flu vaccine
– Untested swine flu vaccine could be given to your children
– £27,000 swine flu bonus for GPs
– Squalene: The Swine Flu Vaccine's Dirty Little Secret Exposed
– NVIC on swine flu and the consequences for you!
– US Military To Work With FEMA During Swine Flu Pandemic
– Former Assistant Secretary of Housing: 'I believe one of the goals of the swine flu vaccine is depopulation'
– US: 12,000 Children To Be Swine Flu Vaccine Guinea Pigs
– Baxter Filed Swine Flu Vaccine Patent a Year Ahead of Outbreak
– UK Government Swine Flu Advisor On Vaccine Maker Payroll
– Swine flu vaccine to be cleared after five-day trial !!!
– Baxter sent out 72 kilos of live bird flu material destined for vaccines confirmed by Austrian Health Minister Alois Stöger
– Baxter: Product contaminated with live H5N1 avian flu virus
– New Zealand orders 300,000 doses of untested and unapproved swine flu vaccine
– Journalist Files Charges against WHO and UN for Bioterrorism and Intent to Commit Mass Murder
– Swine Flu 1976: Reality vs. Propaganda
– Homeopathy Successfully Treated Flu Epidemic of 1918
– Dr. Russell Blaylock on 1976 Swine Flu and Current Outbreak
Swine Flu and the Microchip:
– VeriChip Corp. Granted Exclusive License for Patents Used in Virus Triage Detection System for H1N1 Virus
– Greg Evenson on Microchips and Swine Flu
– Whistleblower: Forced vaccinations – clear warning
Additional information on Tamiflu:
– Canada ignores Oxford University's warning about Tamiflu
– Swine flu: TV presenter's daughter almost died after taking Tamiflu
– Study: Tamiflu causes sickness and nightmares in children
– Tamiflu drug made with cocktail of chemical ingredients, linked with bizarre behavior