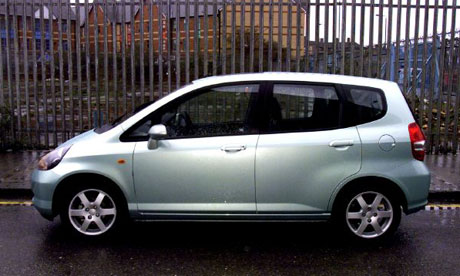 Honda has stressed its commitment to retaining its Swindon workforce until the autumn when a new Jazz model is due to go into production. Photograph: Garry Weaser/Guardian
Japanese carmaker Honda will shut its British factory for four months this evening, after a slump in sales.
Production at the plant in Swindon, Wiltshire, will be halted at the end of today's shift until 1 June.
The 4,200 workers will receive full basic pay for the first two months, falling to 60% for the rest of the shutdown.
"Everyone is feeling a bit down as we're all facing four months off, and we're all a bit worried that it might be more," said Paul Wiseman, 33, who works in the engine plant.
"Honda is trying their best, and there's always a fear that we could lose our jobs, but Honda have told the staff its future is in Swindon," Wiseman said.
Dave Hodgetts, senior director of planning and business administration at Honda UK, said some staff would remain at work developing the new Honda Jazz, which should go into production when factory staff return in June.
"After the four-month break, the plan is for all the staff to come back and their jobs will be secure," said Hodgetts.
Honda today announced a 90% fall in third-quarter profits to 20.2bn yen (£158m). It more than halved its full-year profit forecast to 80bn yen.
Revenues dropped 17% in the third quarter, and the yen took its toll on earnings after hitting 13-years lows against the dollar.
Honda also blamed the higher cost of raw materials such as steel.
Carmakers around the world have been hit hard by the recession. Storage areas and docksides are packed with vast numbers of unsold cars as demand plummets.
Yesterday, US car giant Ford posted the worst performance in its history – a $14.6bn annual loss.
Toyota, the world's biggest car maker, expects to make its first annual operating loss in 70 years and Nissan is also reported to be facing a deficit.
A number of British car factories have cut production and laid off thousands of workers, which has had a knock-on effect on supplier firms.
In Britain, the number of cars rolling off production lines nearly halved to 53,823 last month, with many manufacturers on extended Christmas shutdowns. The car industry has been lobbying the government to help improve the availability of credit to boost demand.
"Everyone knows cars aren't selling. And it's not just Honda, it's other manufacturers as well, so what's the point in producing cars if no one is buying them?" said Paul North, who works in Honda's Swindon factory.
Friday 30 January 2009 08.59 GMT
Julia Kollewe
Source: Guardian