Jaded shoppers deliver their verdict on the chain store that could go under this week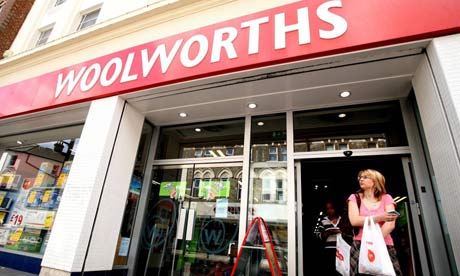 Woolworths has always prided itself on its cheap deals. Photograph: Stephen Kelly / PA
For 30,000 Woolworths staff it may be a bleak Christmas as it became clear yesterday that the veteran high-street retailer could go under this week if management cannot clinch a fire sale.
Woolworths evokes nostalgia for precious pocket money spent on bottles of cola and ill-advised chart singles by Bucks Fizz. Last week it became clear that Woolworths itself was worth only pocket money, with management in talks to sell the 800-store chain for £1.
The collapse of Woolworths would be by far the largest retail failure this year, symbolising the high street's woes.
At the branch in Muswell Hill, north London, yesterday morning, the perspex lids on the pic 'n' mix – strawberry cables, jelly snakes, jazzies – remained firmly closed.
None of the shops in this affluent suburb is bustling – the estate agents are empty and even the swish boutiques have 'Sale' signs in their windows alongside the posh frocks. But Woolworths has a special air of desolation. Packed aisles of Christmas toys and gifts are on special offer, three for the price of two.
'I quite like Woolies, but basically it's all just a bit crap isn't it?' says one browser, Steve, as he leaves empty-handed. A woman is buying plastic coathangers; another is discussing Advent calendars with a member of staff; and a boy is briefly mesmerised by a musical Santa which dances and plays the saxophone, before his mother drags him away. At the till, two young women lean with their chins in their hands, chatting to the security guard.
It wasn't always like this: Woolies once had a shop on every British high street and a special place in the hearts of millions of bargain-hungry shoppers. It was famous for selling anything from sixpenny toys to brown paper and string.
Music-hall artist Stanley Holloway used to recite the monologue 'Albert and the Lion', in which the eponymous hero came to a sticky end. Albert brandished '… a stick with an 'orse's 'ead 'andle/The finest that Woolworths could sell'.
But today, there are plenty of rivals also piling it high and selling it cheap. In the Muswell Hill branch, almost everything – from Christmas gift packs of Lynx aftershave to Paul O'Grady's autobiography – seems to be reduced. The Tannoy is blasting out 'The Little Drummer Boy' and other festive tunes, punctuated by announcements about a 20 per cent off deal with the slogan 'Woolworths: Let's Have Some Fun!'
Woolworths boss Steve Johnson should be visiting his stores today, making sure they are well stocked with Star Wars Clone Trooper helmets and Barbie dolls for this critical time of year.
But instead Johnson, who joined the business three months ago pledging to revive it, is fighting to pull Woolworths back from the abyss. With sales so poor that the company is at risk of breaching the conditions on its loans, the board believes that offloading the retail division is the best solution.
Woolworths is willing to sacrifice the eponymous chain so that its more successful ventures – EUK, which supplies CDs and books to supermarkets, and 2Entertain, a joint venture with the BBC making shows such as Top Gear – can thrive. Management is trying to broker a complex deal by which the retailer might enter administration without dragging its sister companies down with it.
Restructuring firm Hilco offered to take over the business for £1 in return for shouldering nearly £270m of Woolworths debt. But the retailer's banks, which include American lender GMAC and Burdale, part of Bank of Ireland, rejected the Hilco plan late last week.
The banks are owed almost £400m and would be first in line to get their money back if the group collapsed. Unlike suppliers, banks are secured creditors, so have first claim on funds raised by administrators in the sale or break-up of a collapsed business.
'If this business falls over in a controlled way, a big chunk of the staff will keep their jobs,' said one source close to the talks. 'If the collapse is uncontrolled, everyone risks losing their jobs.'
This weekend's quest is for a deal that the banks will accept. Hilco specialies in distressed businesses, often using what is called a 'pre-pack administration', an insolvency procedure that enables it to shed stores it does not want or cut new rental deals with landlords.
Woolworths has tried to reinvent itself many times, most recently as a rival to Argos, launching an internet arm, The Big Red Book – but the results have been poor, with the group making a £90.8m loss in the first six months of the year.
'Woolworths has been ailing for years because it is a jack-of-all-trades and master of none,' says Retail Knowledge Bank analyst Robert Clark. 'It has lots of loyal customers it has failed to exploit over the years due to serial management failure. The irony is that if Alistair Darling and Gordon Brown announce measures to stimulate spending among the lower socio-economic groups on Monday, Woolworths would be a natural place for them to shop.'
Back in Muswell Hill, another shopper, Rob, is emerging with a Woolworths carrier bag. He has bought a birthday card and a copy of the Radio Times. 'I go in there very, very seldom,' he says and expresses little sorrow at the possible disappearance of such a venerable retail institution. 'It's a rubbish shop, really: it's the same as WH Smith. They've had their day.'
Five cents to 1.43p
Frank Woolworth opened his first store, in Utica, New York State, in 1879 with the gimmick that everything was priced at five cents. It failed because it was too far out of the town centre, but a second shop in Lancaster, Pennsylvania, became a roaring success. He soon varied the formula, selling some goods at 10 cents, and the famous 'five-and-dime' store was born.
Woolworth visited England in 1890 and wrote in his diary: 'A good penny and sixpence store, run by a live Yankee, would be a sensation here.' The first store was opened on Church Street, Liverpool, in 1909 and the British offshoot became more successful than its American parent.
Sweets sold by weight – later called the 'pic 'n' mix' – were a key part of Woolworth's formula. When the Liverpool branch opened, the entire stock of sweets sold out on the first day.
By the 1930s, Woolworth was opening a store every fortnight in Britain. When the Second World War broke out, it had 759 branches.
Woolworth heiress Barbara Hutton – Frank's granddaughter, pictured at her wedding to film star Cary Grant – was known as the 'poor little rich girl'. By the time she died in 1979, Hutton had run through seven husbands and most of her $500m inheritance.
Shares in Woolworth's group, now renamed Kingfisher, were worth just 1.43p on Friday.

Zoe Wood and Heather Stewart
Sunday November 23 2008 00.01 GMT

Source: The Guardian