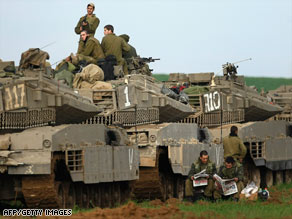 A column of Israeli armored vehicles is deployed in a farmer's field Tuesday near the Gaza border.
GAZA CITY (CNN) — Israel's fourth day of attacks in Gaza sent the Palestinian death toll to more than 375 as the Jewish state's prime minister warned Tuesday that the air offensive marked only the beginning, according to officials.
"We are currently at the first stage of the operation," Prime Minister Ehud Olmert told President Shimon Peres during a morning briefing, officials said.

---
Related article: World rallies around Palestinians amid Gaza offensive

A girl in Caracas, Venezuela, holds a sign reading, "No more massacre in Gaza" at Israel's embassy Monday.

---
Olmert's summation came a day after Defense Minister Ehud Barak told Israel's parliament that the campaign launched Saturday marked an "all-out war" against Hamas, the Islamic militant group that rules Gaza.
However, an official in the Defense Ministry said Barak would consider a proposal for a two-day truce to allow humanitarian aid into Gaza, a proposal raised by French Foreign Minister Bernard Kouchner.
The international community also stepped up its involvement Tuesday, with Kouchner calling Olmert about the proposal, French Foreign Ministry sources said.
French President Nicolas Sarkozy's office said Israeli Foreign Minister Tzipi Livni will meet with Sarkozy in Paris on Thursday.

Learn more about Gaza's political history »
The United Nations has called for both sides to end the violence, and U.N. Secretary General Ban Ki-moon has roundly condemned both sides: Hamas for the rocket fire and Israel for its "excessive use of force" in retaliating.
The Israeli military says it is targeting only Hamas militants, which it says are responsible for a recent barrage of rocket fire into southern Israel.
"They are committed to our destruction," Former Prime Minister Benjamin Netanyahu said of Hamas. "They're firing missiles at our civilians. They're hiding behind their civilians. That's a double war crime right there."

See world leaders' reactions to Gaza invasion »
Palestinian parliament member Mustafa Barghouti, however, has called the raids a "war on the Palestinian people" and said the incursion is politically motivated.

Watch how Israel is sitting on Gaza's border »
In Gaza, at least 375 people have been killed, most of them Hamas militants, Palestinian medical sources said. But U.N. officials said at least 60 civilians were among the dead.

Watch why the U.N. is frustrated »
Among the dead were two girls, ages 4 and 11, who were killed early Tuesday in an Israeli airstrike as they rode in a donkey-driven cart in Beit Hanoun, sources said. Hamas rocket attacks also have killed civilians, Israel said.
Israel also bombed a Hamas government compound early Tuesday, leveling at least three structures, including the foreign ministry building, according to Hamas security sources.

See scenes from this week's violence »
More bombs continued to drop over Gaza throughout the day.
In the Mediterranean Sea, an Israeli patrol vessel struck a boat carrying medical volunteers and supplies to Gaza early Tuesday as it attempted to intercept the vessel, witnesses and Israeli officials said.

Watch CNN's Karl Penhaul describe the collision »
Israeli Foreign Ministry spokesman Yigal Palmor called allegations that the boat was deliberately rammed "absurd" and countered that the volunteer vessel was trying to outmaneuver the Israeli boat.
Meanwhile, the armed wing of Hamas, the Izzedine al-Qassam Brigades, said it would continue launching rockets into Israel if "the aggression continues," a masked spokesman said in televised comments.
Hamas pledges that it will defend its land and people from what it calls continued Israeli aggression.
Each side blames the other for violating an Egyptian-brokered cease-fire. The truce formally expired December 19, but it had been weakening for months.
The spokesman said the group had launched 250 rockets into Israel "so far."
Two rockets damaged buildings in Sderot, and a third rocket landed in a cemetery, wounding one person, Israeli medical services and the military reported.

Watch damage in Sderot, Israel »
Despite the blockade and the airstrikes targeting hundreds of Hamas targets, there was no indication of a ground operation in Gaza, but Israel has tanks on the territory's periphery and voted this week to call up 2,000 reserve soldiers.

Watch whether peace has a chance in Gaza »
Israel has allowed dozens of trucks carrying relief supplies into Gaza. Also, the Rafah border crossing to Egypt was opened temporarily Tuesday to allow aid workers and medical supplies into Gaza and to transport injured Palestinians to hospitals in Al Arish, about 19 miles from the border, Egyptian journalist Shahira Amin said.
Doctors in Al Arish said they were treating 36 wounded Palestinians, at least six of whom were critically injured and being transferred to a hospital in Cairo, Egypt, for treatment. More patients were expected to arrive Tuesday, the doctors said.
At least one hospital is severely lacking in supplies, a doctor who works there told CNN.
"There is nothing you can give to the patients," said Dr. Mahmud El Khzndar, who works in the emergency room of Gaza City's Shesaa Hospital. "There is no supply for the hospital, no narcotics for severely crushed people, for injured people. These people are dying in front of our eyes and between our hands."
The escalating violence in Gaza triggered protests this week across the globe, from Greece, Britain and Lebanon to the United States.
A crowd of several hundred people gathered outside the State Department Tuesday afternoon in Washington, chanting "Stop the killing! Stop the war!" and "Free Palestine" before marching toward the White House.
Dec. 30, 2008
Source: CNN