ATHENS, Greece (CNN) — Violent clashes between police and protesters erupted for a third day in Greece Monday as anger over the fatal police shooting of a teenager continued to rage through major cities.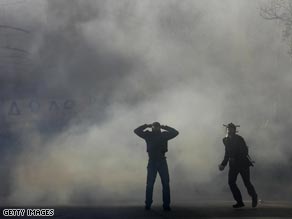 Youths clash with police near the main police station in Athens on Sunday.
Riot police fired tear gas at youths attacking shops and a police station in the port city of Thessaloniki, The Associated Press reported.
Running battles also broke out in Veria, a town 60 kilometers (40 miles) west of Thessaloniki, while violence was reported in the central city of Trikala, AP said.
Major protests were expected later in five Greek cities, including Athens, Thessaloniki, Larissa, another central city, and on the island of Corfu.
There were scenes of destruction across the Greek capital after police apologies and the arrest of two officers in connection with the shooting failed to halt unrest on Sunday.
On Sunday night, police fired tear gas as rampaging youths smashed storefronts and burned businesses, leaving shattered glass and burnt debris scattered across major cities.

See images of anarchy on Greek streets »
Residents of one apartment building in central Athens were evacuated on Sunday after angry demonstrators torched a car dealership on the basement floor.
Self-styled anarchists barricaded city streets in Athens and Thessaloniki, and hurled petrol bombs as they battled with police, who fought back with tear gas in the second day of rioting.

Watch youths riot in Greece »
One officer has been charged with manslaughter over the killing of Alexandros Grigoropoulos, another as an accomplice.
The men say they fired warning shots as Grigoropoulos was about to throw a fuel-filled device at them and a gang of youths pelted a patrol vehicle.
An autopsy is planned later Monday.
In another development, about 15 protesters entered the Greek consulate in the German capital, Berlin.
They submitted a letter of protest about the death of the teen and hung a banner outside the structure that said the boy was "murdered by the state."
While the shooting appears to have triggered the protests, much of the unrest is seen as reflecting increasing resentment towards Greece's scandal-hit government.
Prime Minister Kostas Karamanlis of the center-right New Democracy party won reelection last year, promising to push ahead with key social and economic reforms while shielding workers from massive layoffs.
Despite the assurances, the government's popularity has plummeted amid allegations of cronyism and corruption.
So-called anarchists have a long tradition of anti-government protests in Greece, stemming from seven years of military junta rule that ended in 1974. The movement was reborn in populist student protests in the 1990s.
Dec. 08, 2008
Source: CNN