A total solar eclipse is seen in Varanasi, India, Wednesday, July 22, 2009. The longest solar eclipse of the 21st century pitched a swath of Asia from India to China into near darkness Wednesday as millions gathered to watch the phenomenon. (AP Photo/Saurabh Das)
Related article: Two killed in stampede during eclipse in India (China Daily)
---
Darkness falls in Asia during total eclipse, luring masses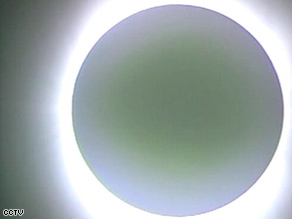 State television in China broadcast this image of the eclipse.
(CNN) — The longest solar eclipse of the century cast a wide shadow for several minutes over Asia and the Pacific Ocean Wednesday, luring throngs of people outside to watch the spectacle.
Day turned into night, temperatures turned cooler in cities and villages teemed with amateur stargazers.
The total eclipse started in India on Wednesday morning and moved eastward across Nepal, Bangladesh, Bhutan, Vietnam, China and parts of the Pacific. Millions cast their eyes towards the heavens to catch a rare view of the sun's corona.
Cloud cover in some areas prevented people from fully savoring the phenomenon. Still, many were awed.
Tim O'Rourke, a 45-year-old freelance photographer from Detroit, Michigan, lives in Hong Kong but traveled up to Shanghai — touted as one of the best spots to watch the eclipse.

Watch the 'exceptional' eclipse »
"It was pitch black like midnight," said O'Rourke, standing in People's Square with what appeared to be a crowd of thousands.
"Definitely not disappointed we came. Of course it would have been much better with nice weather, blue skies. But still it was a great experience, it was a lot of fun." he said.

Viewing the eclipse in pictures »
Total eclipses occur about twice a year as the moon passes between the Earth and the sun on the same plane as Earth's orbit. Wednesday's event lasted up to more than six minutes in some places.

Watch what a total solar eclipse entails »
In India, where an eclipse pits science against superstition, thousands took a dip in the Ganges River in the Hindu holy city of Varanasi to cleanse their souls, said Ajay Kumar Upadhyay, the district's most senior official. Send us your photos of the eclipse