Wife finds Jeffry Picower, 67, apparently drowned in swimming pool of Palm Beach mansion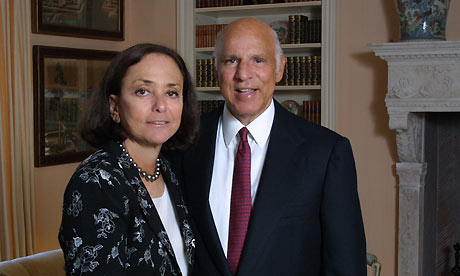 Jeffry Picower and wife Barbara pose for a portrait at their Palm Beach home in 2002. Photograph: Chris Polk/Getty
A Florida billionaire who was a top beneficiary of Bernard Madoff's $65bn (£40bn) Ponzi scheme has died, apparently by drowning in the swimming pool of his mansion in the exclusive seaside enclave of Palm Beach.
Jeffry Picower, 67, was found by his wife and housekeeper shortly after midday on Sunday. Emergency services were unable to revive him and he was pronounced dead at the Good Samaritan medical centre.
An accountant turned wealthy investor, Picower was a friend of Madoff's and was named in court papers as the biggest beneficiary of returns from the Wall Street fraudster's corrupt investment empire.
Although Picower insisted he was unaware of any wrongdoing, bankruptcy trustees for Madoff's firm sued him for $7.2bn earlier this year, claiming that he "knew or should have known" that his phenomenal payouts were fraudulent and that, at a minimum, he had "failed to exercise reasonable due diligence".
Read moreBernard Madoff scheme's top beneficiary Jeffry Picower found dead