See also:
– Greece Considers Exit from Euro Zone: Athens Mulls Plans for New Currency (Spiegel)

Tourism will not be the answer during the 'Greatest Depression'.
---
With debts of €340bn, Greece is turning to its cultural heritage to attract a better class of visitor and make tourism the engine of the Greek economy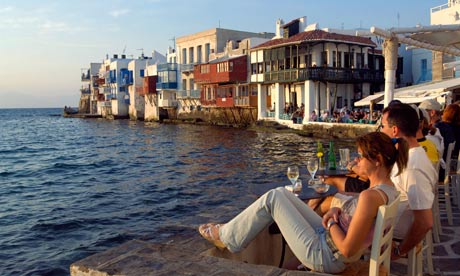 Tourists relax on Mykonos. Photograph: Rene Mattes/ Rene Mattes/Hemis/Corbis
You come to Delos by way of its ancient harbour. This, one suspects, is just as Apollo would have wished. For it is here, under the shade of a palm, that they say the god of light was born. Far removed from the merry-go-round that is Athens – or the fears over Greece's economic plight that have reached fever pitch – the uninhabited isle is afforded a reverence that few others know.
But for those braving the wind-swept seas on a Delos-bound ferry from Mykonos last week, there was no escaping the realisation that that crisis has also reached these hallowed parts. With litter bobbing on a film of filth off its beaches, its museum shop flooded and closed, and treasures – including the island's famous lions – consigned to a building blighted by cracks, cobwebs and rusty scaffolding, the signs were hard to ignore. Lack of staff meant most of the gems had been roped off.
"What can I say?" spluttered Fani Iosifidou, one of three employees guarding the site's myriad, poppy-strewn temples, mosaics and statues. "The culture ministry was meant to dispatch more personnel at the beginning of the season but we're still waiting. There are simply not enough of us here. If we don't close off that space," she said, pointing to the lions, "people go and sit on them. It's a terrible thing."
The economic crisis that has engulfed Europe's periphery – peaking with reports, flatly denied by the government, that Athens was poised to exit the eurozone and reinstate the drachma as its currency – is hitting at the heart of the debt-stricken country where it first erupted. A year to the week after receiving rescue loans worth €110bn, the biggest bailout in western history, austerity-plagued Greece is still struggling to stave off economic collapse.
Amid frenzied speculation that it will soon have no choice but to restructure a debt load estimated at €340bn and climbing, eurozone finance ministers announced that they would meet to discuss whether Athens needs even more aid – a scenario bound to send further tensions through the EU.
But for the Greeks, who have dismissed the suggestion of a euro exit as a "joke", the answer lies closer to home – in tourism, a sector that accounts for one out of five jobs and 18% of GDP.
Even as places like Delos struggle to make the best of their antiquities and museums, there is a growing recognition that economic recovery lies with a sector that for far too long has relied on tour operators and cheap mass travel.
And in order to lure visitors, there is a sense for the first time that the nation must tap into its immense cultural wealth – a heritage too often neglected – as well as its natural beauty.
"Tourism can be the star of development … a model for economic development," said the socialist prime minister, George Papandreou, in a keynote speech to industry figures. "The reputation of our country is strengthened when the wealth of our monuments is displayed and when it is associated with myth, history, tradition, Greek produce and Greek diet."
Cultural riches could be promoted by being listed with the world heritage convention, the prime minister added, citing the case of Spinalonga, the Venetian fortress-turned-leper colony off Crete that was immortalised by the British novelist Victoria Hislop in her bestseller, The Island.
"Spinalonga is an example of the wealth we have around us, that we either don't know or have no idea about promoting in a proper and organised way," he said.
From the rolling hills of Arcadia to the plains of Macedonia and sun-baked palaces of Crete, examples of the thwarted efforts of cash-strapped Greek authorities to showcase that wealth are two a penny.
In provincial towns and islands, museums have been closed. For places like Plato's Academy, the world's first university, in the heart of Athens, funds have been so scarce that officials have been unable even to afford basic signs. With Greece mired in recession not seen since the reintroduction of democracy in 1974, and Athens's historic centre so crime-ridden that even its mayor recently conceded that he felt unsafe at night walking its streets, Papandreou's targets, then, might seem a bit of a pipe dream.
But the US-born premier is not without ambition. Greece, he says, should aim to become one of the "10 best" destinations in the world. To this end, he has gone out of his way to improve the country's image abroad.
Last year, the government banished visa requirements for non–EU citizens, waived landing and take-off fees for aircraft at airports nationwide and took steps to facilitate foreign investment in a sector that, like so many others, has been afflicted by corruption, cronyism and lack of competitiveness – the very ills that helped bring Greece to its knees. Last week, Papandreou announced plans to cut the price of costly ferry tickets.
The measures appear to be paying off. In a reversal of several lean years, Greece is bracing for a bumper season, with popular Ionian islands, like Zakynthos, reporting a 200% increase in the number of visitors over Easter. Bookings by Britons have shot up by 20%, according to Thomas Cook, as tourists who might normally go to Egypt and Tunisia have opted for the Aegean islands instead. "Suddenly Greece is all the rage," said a spokesman from the company. "It's set for a comeback."
For the first time, too, the country looks set to be besieged by visitors from neighbouring Turkey, as well as Russia, China and India, following the lifting of visa restrictions. Despite its dire public finances, Athens will stage the Special Olympics, a unique sports event for the intellectually disabled that is expected to bring in around 40,000 tourists over two weeks in June.
The hope is that a reinvigoration of the tourism sector – regarded as a heavy industry in a country that produces little else – will not only increase jobs but overturn the prevailing mood of uncertainty that, as in Portugal, has also seized Greeks. Unemployment, as a result of stringent austerity measures imposed in exchange for aid from the EU and IMF, recently topped an unprecedented 15%, with a disproportionate number of young Greeks affected.
"If Greece became one of the 10 best destinations in the world, the sector would account for 20% of GDP and provide one in four jobs," said Andreas Andreadis, the newly installed president of the Association of Greek Tourism Enterprises. "Then it would really be the engine of the Greek economy."
But officials also know that the hoary image of Greece as a sun, sand and sea destination brimming with smiling Zorbas no longer works and that the country will have to diversify. Arrivals might be up but revenues show only a slight increase due to discounts and special offers that hoteliers have been forced to offer to attract tourists.
"The country needs to be rebranded," said Andreadis. "The Greece that we Greeks know, the Greece of the mountains and hills, countryside and sea, is simply not promoted."
As the first of the spring flowers burst into life on Delos, its keepers couldn't agree more. In recent years inadequate protection has seen a flow of priceless objects being filched from the site.
"Delos is a world-class venue but it only has three guards to protect it at night and three during the day," lamented Mykonos's mayor, Athanasios Kousathanas-Megas, who has administrative control over the island.
For years, he says, locals have pleaded with the culture ministry to restore the island's ancient theatre beyond the villas and temples that look onto its ancient port.
"If it were restored and performances held, Delos, the island of Apollo, could come alive again," he says. "We Greeks may not have much money but we have pride. Our ancient heritage is our identity and it can help us get through this crisis."
Helena Smith in Delos
Sunday 8 May 2011 00.06 BST

Source: The Guardian