Wife finds Jeffry Picower, 67, apparently drowned in swimming pool of Palm Beach mansion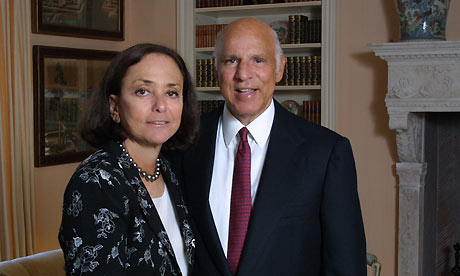 Jeffry Picower and wife Barbara pose for a portrait at their Palm Beach home in 2002. Photograph: Chris Polk/Getty
A Florida billionaire who was a top beneficiary of Bernard Madoff's $65bn (£40bn) Ponzi scheme has died, apparently by drowning in the swimming pool of his mansion in the exclusive seaside enclave of Palm Beach.
Jeffry Picower, 67, was found by his wife and housekeeper shortly after midday on Sunday. Emergency services were unable to revive him and he was pronounced dead at the Good Samaritan medical centre.
An accountant turned wealthy investor, Picower was a friend of Madoff's and was named in court papers as the biggest beneficiary of returns from the Wall Street fraudster's corrupt investment empire.
Although Picower insisted he was unaware of any wrongdoing, bankruptcy trustees for Madoff's firm sued him for $7.2bn earlier this year, claiming that he "knew or should have known" that his phenomenal payouts were fraudulent and that, at a minimum, he had "failed to exercise reasonable due diligence".
A suit filed by lawyers for the trustee Irving Picard claimed that Picower was receiving even greater returns than other investors, topping 100% some years, and that the money ought to be refunded for distribution to the fraudster's victims.
Picower's abrupt death is yet another tragic twist to the saga surrounding Madoff's record-breaking fraud, which has been blamed for at least two suicides among victims.
Palm Beach police said Picower's wife, Barbara, told emergency dispatchers she had "just found her husband at the bottom of their swimming pool".
Don Taylor, acting battalion chief for Palm Beach's fire service, told the Palm Beach Post emergency workers had been unable to revive him.
"We had no pulse and he was not breathing on his own," said Taylor. "We worked on him to try to stabilise him as best we could."
Picower's wealth was estimated by Forbes magazine at $1bn, putting him among the 400 wealthiest people in the US. He used to head a charitable foundation that gave money to educational and health-related causes, although this shut down after losing its endowment in Madoff's fraud.
A lawyer for Picower's family, William Zabel, said the billionaire had suffered from Parkinson's disease and "heart-related issues".
Picower consistently said his charity and his own personal finances had suffered from Madoff's crimes. But his withdrawals from Madoff's fund were viewed with suspicion after the fraudster's unmasking.
The bankruptcy trustee sifting through the remnants of Madoff's firm has taken an aggressive approach towards "clawback" from those to whom Madoff paid out gains.
In August, Picower described efforts to force him to hand back money as a "paradigm of excess", and his lawyers have said he was "in no way complicit" in corruption.
Madoff, considered the biggest fraudster in Wall Street history, is serving a 150-year sentence for theft, fraud and money laundering at Butner prison in North Carolina.
Andrew Clark in New York
Monday 26 October 2009 07.35 GMT

Source: Guardian