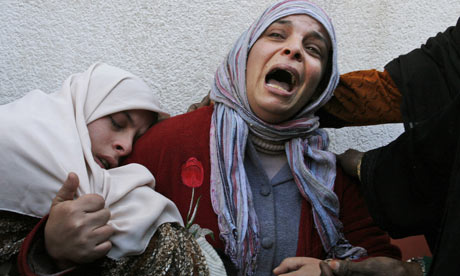 Palestinian women react after seeing the body of a relative killed in an Israeli missile strike at Kamal Edwan hospital in Beit Lahiya, northern Gaza Strip. Photograph: Fadi Adwan/AP
Everyone says something new is going on here; something different. The residents of Egyptian Rafah are used to the sounds of rockets and shells exploding on the other side of their border, but they've never heard the sounds they've been hearing over the last 20 days. Twenty-five miles further into Egypt the general hospital at el-Arish is used to receiving the Palestinian wounded. The staff have never seen injuries like these before. The hospital forecourt is swarming with ambulances, paramedics, press. The wounded are raced into casualty.
The Palestinians are mostly silent; each man working out where he finds himself and what he's going to do. Fearing for their wounded and fearing for those they've left behind, they are silent but unfailingly courteous.
Related articles:
– MP makes Israeli troops Nazi link (BBC News)
– UN condemns shelling of Gaza school (Independent)
– Fresh evidence of Israeli phosphorus use in Gaza emerges (Guardian)
– Gazan Doctor's children killed while he is speaking to Israeli TV (Palestine Think Tank)
– Doctor's lament: 3 daughters killed in Gaza shelling (Chicago Tribune)
– "U.N. officials are calling for a war crimes investigation" (VOA)
– US journalists call Livni a 'terrorist' (ynet)
– Syria urges full Arab boycott of Israel as divisions deepen over Gaza (Guardian)
– Hertz withdraws from Israeli airline deal (Independent)
– 'We are creating suicide bombers from the sons of the dead' (Guardian)
They try to answer questions. They must be exhausted? "The people of Gaza," they say (not "we"; they're too proud for that), "the people of Gaza just wish for an hour's sleep." The case you're accompanying? "I'm here with my nephew. He's 19. Shrapnel in his head. He was sitting with his friends. He's a student. Architecture. The helicopter dropped a bomb and seven of the group were killed and six were injured. They found a boy's hand on a 3rd floor balcony."
Later, I see a boy sitting up in bed with a bandage round his head. He has wide brown eyes flecked with green and he frowns a little, as though he was trying to remember something important. In the next bed a 12-year-old also with a bandaged head is not quite conscious yet. He is flushed and fretful.
The Palestinians say: "This is a war of extermination." They describe bombs which break into 16 parts, each part splintering into 116 fragments, the white phosphorus which water cannot put out; which seems to die and then flares up again.
No one I spoke to has any doubt that the Israelis are committing war crimes. According to the medics here, to reports from doctors inside the Gaza Strip and to Palestinian eye-witnesses, more than 95% of the dead and injured are civilians. Many more will probably be found when the siege is lifted and the rubble is cleared. The doctors speak of a disproportionate number of head injuries – specifically of shrapnel lodged in the brain.
They also speak of the extensive burns of white phosphorus. These injuries are, as they put it, 'incompatible with life'. They are also receiving large numbers of amputees. This is because the damage done to the bone by explosive bullets is so extensive that the only way the doctors in Gaza can save lives is by amputating.
One of the nurses said to me that the nurses and paramedics were horrified by what they were seeing. "We deal with cases all the time," she said. "But what we're seeing these days we've never seen before or imagined."
Upstairs a professor of economics, accompanying his brother, sees me staring at my notes and says: "Exaggerate. Whatever you write will not be as bad as the truth."
In the silence that followed someone put a mobile in my hand.
"Look!" On a rubble-strewn street lay the body of a roasted and charred child. Two bones were sticking out where her thighs had been. "The dogs ate her legs," he explains. For a moment I put a hand over my eyes. The phone goes round the table, each man gravely contemplating the burned child on the screen. Then someone asks: "What will it take to make the Israelis stop?"
Ahdaf Soueif is a writer whose novel The Map of Love was shortlisted for the 1999 Booker prize
Saturday 17 January 2009
Ahdaf Soueif in Egypt
Source: The Guardian