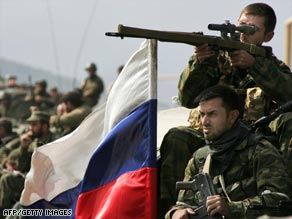 Russian President Dmitry Medvedev has called a halt to the advance of Russian troops in Georgia.
MOSCOW, Russia (CNN) — Russian President Dmitry Medvedev announced Tuesday that he has ordered an end to military operations against Georgia.

The announcement came minutes before French President Nicolas Sarkozy was to land in Moscow to meet with Medvedev to negotiate terms for a possible cease-fire.
"I have reached a decision to halt the operation to force the Georgian authorities to peace," Medvedev said. "The aggressor has been punished and has incurred very significant losses. Its armed forces are disorganized."
"The statement on the halt of the military action by Russia is the news we had expected. It's good news," Sarkozy said, according to an Interfax report.
The decision ends five days of fighting that began in Georgia's breakaway region of South Ossetia and spread well into Georgia.

Watch Georgia's reaction to cease-fire »
Before the Russian president said he would halt military operations, a Georgian Interior Ministry official said Tuesday that Russian bombs hit one of the three pipelines carrying oil to the Black Sea port of Poti. There was no oil in the pipeline at the time, the ministry official said.
Georgian President Mikheil Saakashvili has accused Russia of provoking the war to justify a full-scale invasion of the former Soviet state. The Russians say Saakashvili attacked first in an attempt to gain control of South Ossetia.
Russian Foreign Minister Sergey Lavrov said in an earlier news conference Tuesday that Russia wanted a demilitarized zone to be created in Georgian territory before a cease-fire took effect.

Watch Lavrov speak about Georgia »
The zone had to be big enough to prevent Georgia's military from again attacking the breakaway province, Lavrov said.
He said Russian troops already in the breakaway province on peacekeeping duty should remain, but that Georgian troops who were part of that force should not return.
Lavrov said it would be best if Saakashvili stepped down as Georgia's leader — something the president has vowed not to do — but that Russia is not demanding his resignation.
"We have no plans to throw down any leadership," Lavrov said. "It is not part of our culture. It is not what we do."
However, Lavrov said Moscow did not trust the country's leadership.

Watch more on the fighting in South Ossetia »
He said Saakashvili's "barbaric and brutal action" had undermined trust in Georgia.
Lavrov also had harsh words for the West, saying he was "deeply disappointed" Western powers had not talked Georgia out of attacking South Ossetia last Thursday.
On Monday Saakashvili signed the cease-fire proposal after meeting the Finnish and French foreign ministers.
French President and EU leader Nicolas Sarkozy was due in Moscow Tuesday morning to talk with Russian President Dmitry Medvedev, before flying to Tbilisi to met with Saakashvili.
Earlier, Vitaly Churkin, Russia's ambassador to the U.N., said it could not sign a Security Council cease-fire resolution drafted by the French because it was lacking in a "series number" of areas.

Watch more on Georgia's defense »
Meanwhile, the Russian military advanced further into Georgia overnight, heading toward cities outside South Ossetia and Abkhazia.
From the flashpoint South Ossetia, the Russian military moved south toward the central Georgia city of Gori, Georgia said. Russia said its troops were on the outskirts of the city.
A CNN crew in Gori saw Georgian forces piling into trucks and leaving the city at high speed.

Watch a report from Gori as Georgian troops pull out »
Gori lies along Georgia's main east-west highway, and is an important site for Georgia's communication systems.
Russian troops were also in Senaki, in western Georgia, having advanced from the breakaway area of Abkhazia, Russian and Georgian officials said.
Georgia's security chief Alexander Lomaia said Tuesday that Russian troops had left Senaki but remained on the outskirst of Zugdidi and around Gori, The Associated Press reported.

Interactive map: See how far the Russians have advanced »
Lomaia said Russian aircraft bombed Gori on Tuesday morning, targeting administrative buildings and a street market in the center, AP reported.
Georgia, a pro-Western ally of the U.S., is intent on asserting its authority over South Ossetia and Abkhazia, both of which have strong Russian-backed separatist movements.
The situation in South Ossetia escalated rapidly from Thursday night, when Georgia said it launched an operation into the region after artillery fire from separatists killed 10 people. It accused Russia of backing the separatists.
South Ossetia, which has a population of about 70,000, is inside Georgia but has an autonomous government. Many South Ossetians support unification with North Ossetia, which would make them part of Russia.
Russia supports the South Ossetian government, has given passports to many in South Ossetia, and calls them Russian citizens.
Aug 12, 2008
Source: CNN